H.R. Giger's Back Scratcher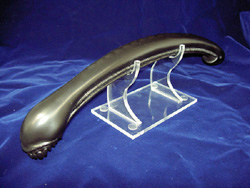 H.R. Giger's Original Design "GIGER'S Back Scratcher"!!

How can I scratch my back with this??
Need to bend its face more!!

Anyway, you can buy it from the link below, even though it's all written in Japanese.
http://www.tanomi.com/shop/html/items02085.html
Price is... 5,900 yen per each (about 60 US dollars).